As a photographer, you know that having a quality tripod is essential for getting the perfect shot. But when you're travelling, lugging around a bulky tripod can be a pain.
That's why today we're rounding up the top best travel tripods for iPhone↑. These tripods are lightweight and compact, making them the perfect option for photographers on the go.
So whether you're hitting the beach or exploring new cities, these tripods will help you capture beautiful photos no matter where you are!
We will also provide information on what to look for when choosing a travel tripod, and how to use it effectively. So whether you are a beginner or experienced photographer, read on to find out more!
Best Travel Tripod for iPhone in 2023:
1: Joby GorillaPod 3K Flexible Mini-Tripod:
Main Features:
Compatible Devices: DSLR, iPhone
Brand: Joby
Material: Stainless Steel, Plastic
Tripod Head Type: Ball Heads
Weight Limit: 6.6 Pounds
Item Weight: 1.1 Pounds
The Joby GorillaPod 3K Flexible Mini-Tripod is the perfect travel tripod for iPhone users who want a versatile tripod that goes anywhere.
It designed with a flexible legs, this tripod can attach to all sorts of different surfaces including trees, rocks, benches, poles, and more. Plus, with the use of the ball head mount, it can hold your iPhone at virtually any angle so you can easily get that perfect shot!
This tripod is very lightweight for traveling, weighing only 1.1 Pounds. Plus, when collapsed it measures just 6 inches in length so you can easily store it in your bag when not in use.
It has a ball head that's fully adjustable, making it easy to switch between landscape and portrait orientation. This product comes with an smartphone adapter for iPhone compatibility so you don't need to buy it separately
For those who want an iPhone tripod that can go anywhere, this is the perfect choice!
2: UBeesize 51″ Extendable Tripod Stand with Remote:
Main Features:
Compatible Devices: All iPhone/Android Smart phones
Brand: UBeesize
Material: Aluminum
Color: Black
Max Height: 51.0 inch
Min. Height: 17.5 inch
Item Weight: 0.35kg
UBeesize Travel Tripod is aloo a good Tripod for iPhone which comes with Bluetooth controller, from with you can control your iPhone from a distance.
Its a two in one combo because it can be used as a tripod to take photos and videos, but it also can be a great selfie stick.
The Best thing about this Tripod is that the Tripod has a holder for your iPhone and an adjustable clamp which can fit any size of iPhones. The Tripod's height is easily adjustable, ranging from 17.5 inches to 51.0 inches tall.
With the UBeesize extendable tripod stand, you may easily take photos or make movies with a larger backdrop.
This tripod is made of lightweight aluminum (just 0.35kg) and has quick flip locks, non-slip feet, and compatibility with all devices.
3: Andobil Flexible Cell Phone Tripod with Remote: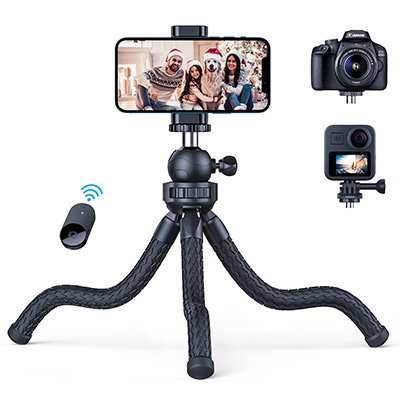 Main Features:
Compatible Devices: Smartphones
Brand: andobil
Material: Aluminum
Tripod Head Type: 360° Rotation Ball Heads
Color: Black
Weight Limit: 1.2 Kilograms
This Andobil Flexible Cell Phone Tripod Is an All-Terrain Mini Camera Stand That Fits Most Small Phones. The Andobil tripod is incredibly lightweight and versatile with the ability to hold any phone in either portrait or landscape mode. The tripod's legs are made from a flexible, shock-resistant rubber for protection.
The Andobil tripod is perfect for taking self-portraits with your phone camera. Includes a remote shutter and Bluetooth for taking selfies without the hassle of setting up your phone timer or finding yourself in the shot!
The flexible legs will help hold your device in place at all sorts of angles, which is perfect for travelers who are constantly on the go.
Best of all, this product is a waterproof tripod, and comes with a Bluetooth remote so you never have to take your hands off the phone.
The ball head included with the Andobil tripod is 360°rotatable, smooth and easy to use, which makes it ideal for selfie shots.
This product has proven its quality by getting tuns of positive reviews from customers.
4:
Bluehorn

Portable 40 Inch Selfie Stick Tripod:
Main Features:
Compatible Devices: iPhone
Brand: Bluehorn
Material: Aluminum
Tripod Head Type: Ball Heads
Item Weight: 0.64 Grams
Max Height: 8.1 inches
Min Height: 40 inches
The Bluehorn Selfie Stick Tripod is perfect for travelling. The tripod is made of aluminum alloy, which ensures long-lasting durability while yet being lightweight.
The aluminum alloy is quite light, yet it has a very strong body, so you know that your phone is being protected by a durable selfie stick.
The length of the tripod is adjustable, so it can be extended from 13.8 to 40 inches! Great for your camera or phone, this tripod works with any phone that has a 1/4-20 inch universal screw. The tripod also has rubber feet, to ensure stability.
This product is perfect for travel as it can be compacted into a short length without sacrificing stability.
The tripod also has a wireless remote to take selfies, time lapse photos, long exposures and even interval shots for stop motion photography. This tripod is great for travel and you can easily throw it in your suitcase or backpack, making it easy to take anywhere.
5: UBeesize Phone Tripod, Portable and Flexible Tripod:
Main Features:
Compatible Devices: Cellphone
Brand: UBeesize
Material: Metal, Rubber
Tripod Head Type: Ball Heads
Color: Black
Item Weight: 150 Grams
Introducing the UBeesize phone tripod! This little guy is super portable and flexible, making it easy to take with you wherever you go.
Weighing only 150g and standing at 10 inches, this tripod is definitely the most portable and compact tripod around.
Plus, the ball head can be tilted 90 ̐ easily, so you can take photos or videos in portrait or landscape mode with ease. And if that's not enough, the tripod also comes with a wireless remote control that has a range of up to 30 feet!
So whether you're traveling, taking selfies, or recording video footage, the UBeesize phone tripod has got you covered.
That product got a lot of positive reviews and also got 4.5 out of 5 stars from over 26000 Amazon customers!
And if you're still not convinced, this tripod comes with a universal clamp so you can use it with your phone, GoPro camera, or DSLR. Best of all though? This thing is compatible with both iOS and Android devices.
Conclusion:
I think travel tripod is a very useful tool for iPhone photographers and travelers. All the tripods for iPhone listed in this article are top quality, creative and useful. I hope you can get useful advices here.
Thanks for reading! If you found this article helpful, please share it to help others find us. Best of luck!